| | | |
| --- | --- | --- |
| | Grumman/GM TBF/TBM "Avenger" | |
In response to a 1939 requirement for a carrier-based torpedo-bomber to replace the TBD "Devastator", Grumman Aircraft Engineering Corporation produced the TBF "Avenger" equipped with an electrically powered gun turret and an internal bomb-bay for four 500 lb bombs or an aerial torpedo. Crewed by a pilot, radioman and gunner, the TBF could cruise at 145 mph. In 1942 General Motors also built the TBF known as the TBM. A total of 9,842 TBF/TBM "Avengers" were produced, the last of which was retired in 1954.
The combat debut of the TBF occurred during the Battle of Midway when six of them were launched from Midway without fighter escort to attack the approaching Japanese fleet. Jumped by "Zeros" during their torpedo runs, five were shot down while the sixth was so badly shot-up (pilot/radioman wounded, gunner killed) that it was scrapped after landing at Midway with bomb-bay doors open and only one wheel extended.
In 1944 while flying from an aircraft carrier on a bombing mission against a Japanese radio station on Chichi Jima, the TBM of LTJG George Bush was severely damaged by anti-aircraft fire. Despite a flaming engine, he continued his dive to score a direct hit before being forced to bail-out over water where he was picked up by a submarine and subsequently returned to his squadron to fly additional combat missions. Both of his crewmen failed to survive. Other combat highlights involving the "Avenger" included: sinking of six Japanese transports in one day by aircraft from a single squadron; sinking of the world's largest battleships - the Musashi and Yamato; shooting down ninety-eight planes in aerial combat; and sinking thirty-one German submarines in the Atlantic. In 1945, five TBMs from NAS Ft. Lauderdale on a routine training flight disappeared in an area known as the "Bermuda Triangle". Their location remains a mystery to this day.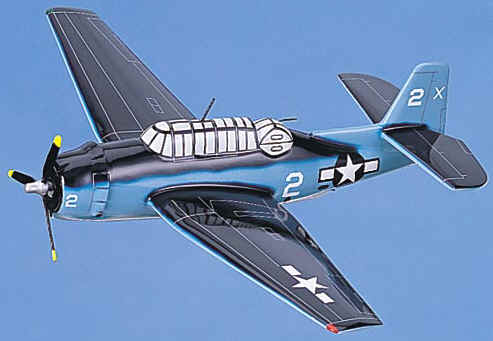 Grumman TBF Avenger
From our Premier Series. 1/35th scale.17.5" wingspan by 13.5" long.
No. AENMD-PR. Only $174.95
Grumman TBF Avenger
From our Standard Series.
1/32nd scale. 16.75" wingspan by 12.75" long
No. AENMD-ST. $139.95