| | | |
| --- | --- | --- |
| | Grumman F7F "Tigercat" | |
Ordered in 1941, the Grumman F7F "Tigercat" was the Navy's first twin-engine fighter design to be built in production quantities and the first to incorporate tricycle landing gear. Other wartime production requirements by Grumman delayed the F7F's first flight until 1943 where it proved to be a highly maneuverable aircraft with a top speed of 400 mph despite its large radial engines and heavy armament of four .50 caliber machine guns and four 20 mm cannons.
Originally fitted with a tail hook for operations from "Midway" class carriers, the F7Fs proved too heavy for such duty and were transferred to Marine Corps shore based squadrons in 1944. While the "Tigercat" never saw action in WW II, an F7F-3 variant with a rear seat for a radar operator was effectively used in combat by the Marines in Korea as a day and two-place night fighter as well as an attack aircraft (e.g., two enlisted Marine pilots in an F7F-3 awarded the Distinguished Flying Cross for destroying an entire enemy road convoy on a single mission).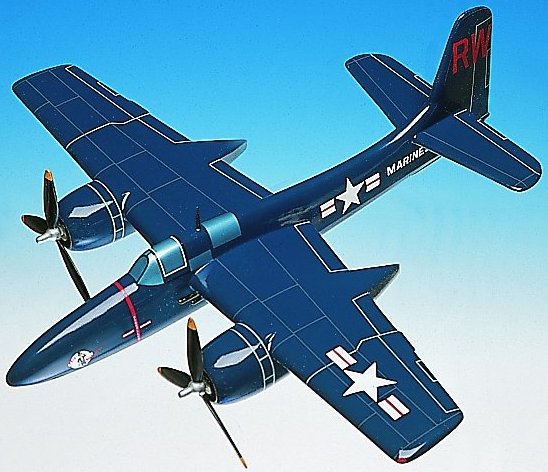 Grumman F7F-1 "Tigercat"
From our Deluxe Series. 1/32nd scale. 19.25" wingspan by 17.8" long
No. AEN7D-DX. Only $139.95