| | | |
| --- | --- | --- |
| | Curtiss SB2C Helldiver | |
Designed in 1938 as a scout-bomber to replace the SB2U "Vindicator" dive-bomber, the SB2C "Helldiver" incorporated a larger fuel capacity, twenty millimeter cannons and an internal bomb-bay for a 1,000 lb. bomb. Due to stability problems and a series of prototype accidents, it was not until June 1942 that the first of over 5,500 production models rolled off the assembly line.
Carrier trials in early 1943 were a disaster with many aircraft ending up in flight deck barriers because of landing gear failures and a bounce characteristic that prevented tail-hook engagement with the cross-deck cable. The SB2C also displayed a tendency to shed its wings in steep dives routinely performed by the SBD. The plane was known variously as the "Beast" and the "S.O.B. Second Class" (a play on SB2C). Jokingly, some pilots even recommended that they be turned into anchors. Still, the aircraft did gain respect and eventually would outfit most of the fleet's dive-bomber squadrons.
The "Helldivers" career was a series of successes and failures. In a raid on Rabaul a carrier-based squadron of "Beasts" sank two cruisers and a destroyer. During carrier raids on Truk, the same squadron sank 176,000 tons of Japanese shipping in 36 hours with the loss of only one plane to enemy action. Conversely, only five of fifty SB2Cs returned safely from an attack against the Japanese Fleet during the first Battle of the Philippine Sea with the majority ditching for lack of fuel. Of the SBDs launched on the same attack, only two failed to return safely - one to enemy fire and the other crashed on landing.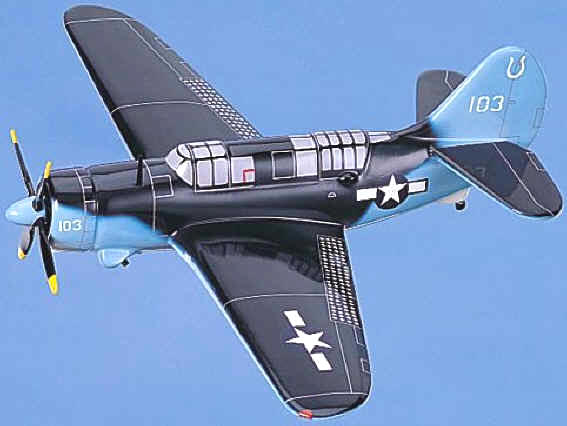 Curtiss SB2C Helldiver
From our Premier Series. 1/33 18.5" wingspan by 13.15" long.
No. AENAD-PR. Only $174.95
Curtiss SB2C-4 Helldiver
From our Standard Series.
1/32nd scale. 18.5" wingspan by 14" long
No. AEN1D-ST. Only $139.95