| | | |
| --- | --- | --- |
| | Grumman F8F Bearcat | |
Delivery of F8Fs to the Navy began in 1945 as advanced fighters intended for kamikaze defense and to to further counter the highly maneuverable Japanese "Zero." Streamline design features to minimize drag combined with a reduction in armament from six to four .50 caliber machine guns resulted in a faster aircraft with a better rate-of-climb yet able to sustain higher combat G-force loads than its F6F "Hellcat" predecessor. Two wing pylons each capable of carrying a 1,000 lb bomb (or a drop tank) also provided the F8F with an attack capability.
Although grounded for a short time due to oil and hydraulic leaks, the F8Fs were flown extensively in training missions until the atomic bomb ended all hopes of their going into combat with U.S. military forces. The immediate result was that the Navy reduced its production contract from 2,000 F8F-1s from Grumman and 1,800 from General Motors (designated F3M-1s) to 770 aircraft total. Production models included night fighters (F8F-1N) with a radome pod under one wing, and photo reconnaissance aircraft (F8F-2P). By the time the Korean War began in 1950, the F8F had been supplanted by the jet age.
During 1951, the United States sent a number of "Bearcats" to the French Expeditionary Air Force in Southeast Asia for use as ground support aircraft against the Viet Minh. With the withdrawal of the French from Indochina, the remaining F8Fs were turned over to the South Vietnamese Air Force and were still present in August 1960 when U.S. military advisers arrived in Vietnam.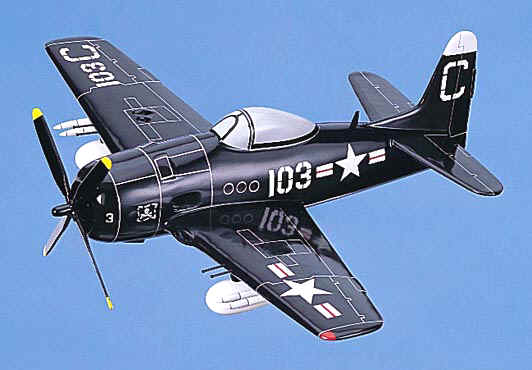 Grumman F8F Bearcat
From our Premier Series. 1/24th scale. 17.5" wingspan by 13.5" long.
comes fully loaded with drop tanks and rockets.
No. AEN8D-PR. Only $194.95
Grumman F8F Bearcat
From our Deluxe Series
1/24 scale. 17.5" wingspan x 13.5" long.
No. AEN8D-DX. Only $129.95