| | | |
| --- | --- | --- |
| | Douglas A-20G Havoc | |
When the U.S. entered WW II, the A-20 attack bomber had already been proven in combat by British and French forces. On July 4, 1942, six A-20s flown by American crews of the 15th Bombardment Squadron accompanied six flown by British crews on a low-altitude mission against four Dutch airfields, the first U.S. daylight bombing raid in Europe.
The versatile A-20 was used in the Pacific, Middle East, North African, Russian, and European theaters. Some A-20s equipped with radar equipment and additional nose guns were redesignated as P-70s and were used as night fighters until replaced in 1944 by the P-61 "Black Widow" with its increased high altitude performance. A-20 production halted in September 1944 with more than 7,000 built for the U.S. and its allies.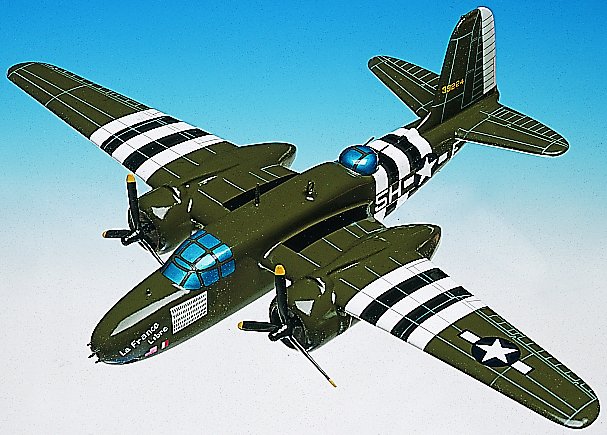 Douglas A20-G Havoc
From our Deluxe Series. 1/40th scale. 18.5" wingspan by 14" long
No. AENCD-DX. Only $139.95