| | | |
| --- | --- | --- |
| | Brewster Buffalo F2A | |
The Brewster Buffalo was the first monoplane fighter to be flown off a carrier. The Brewster company had the habit of promising more than it could deliver, and the dates for delivery of the F2A-1 to the Navy began to slip. The Navy expected the first F2A-1 delivery during May of 1939, but only one example was actually ready by June of 1939. It was put on display at the World's Fair in New York, along with some other American military aircraft. Delays continued, and by November 1939 only 5 had been delivered. Only eleven of the F2A-1 were delivered. In early 1941, fighter squadrons VF-3 and VF-2 were both re-equipped with the F2A-2. They operated from the aircraft carriers USS Saratoga and the USS Lexington. The FA-3 was the last version of the Buffalo to enter US Navy service. They were ordered in January of 1941. It is less well known that the Buffalo actually served with distinction with the Finnish Air Force. While poorly matched against the highly maneuverable Zero, it was a better match-up against Soviet Fighters.
With a top speed of only about 300mph the Buffalo was a stop-gap fighter for the Allies in the Pacific. Armed with a variety of weapons, ranging from 1x.50 cal and 1x7.62mm in the early models to 4x.50cal in the later version, the Buffalo was no powerhouse of firepower. Outclassed by the A6M Zero the F2A came to grief in the early part of the Pacific War, where it soon earned a reputation as a virtual deathtrap. It was soon turned over to the Marine Corps for land based operations. 502 Buffalos were built.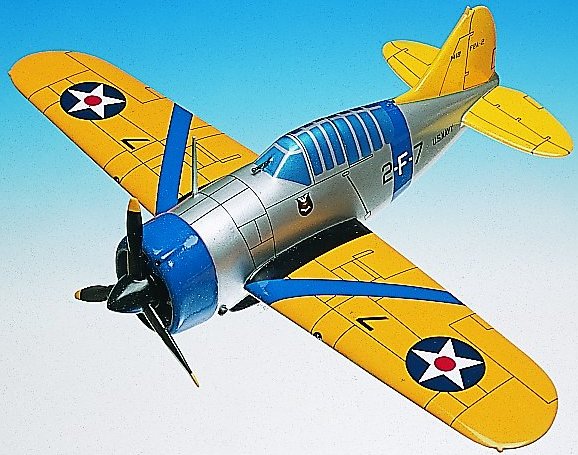 Brewster Buffalo F2A-2
From our Deluxe Series. 1/24th Scale. 17.25" wingspan by 12.8 length.
No. AEN1D-BB. Only $129.95