| | | |
| --- | --- | --- |
| | Grumman F6F Hellcat | |
In 1942, Grumman Aircraft Engineering Corporation began mass production of the F6F "Hellcat" fighter as replacement for the F4F/FM-2 "Wildcat" which had been carrying the burden of fighter operations in the Pacific. The results obtained from testing a captured Japanese "Zero" restored to flyable condition were utilized in refining design features of the production F6F to enable it to engage the "Zero" on equal terms and thus dictate the rules of combat. At one time during the war, Grumman was delivering a "Hellcat" at the rate of one per hour around the clock for a grand total of 12,275 deliveries from 1942 to 1945.
While the F6Fs capability for carrying bombs and rockets was widely utilized in air support of friendly ground forces as well as the destruction of enemy airfield installations and shipping, it is best known for its role as a fighter. All in all, the "Hellcat" was credited with destroying 5,156 enemy aircraft in air-to-air combat (75% of all Navy aerial kills) with a kill ratio of 19:1. Combat stories of F6F encounters with enemy aircraft during World War II are legendary.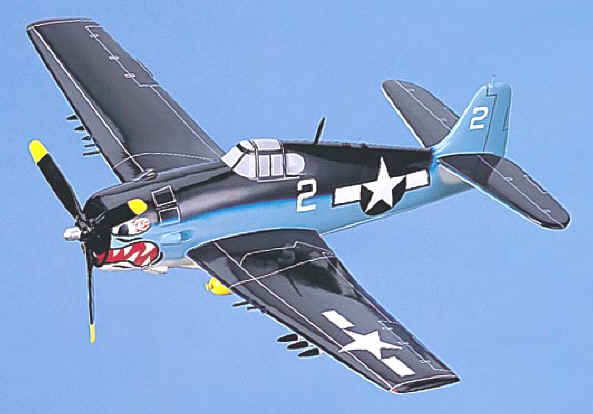 Grumman F6F-3 Hellcat - Loaded
From our Premier Series. 1/30th scale. 17.5" wingspan x 13.5"
Comes completely loaded with weapons.
No. AEN6D-BL. Only $194.95
Grumman F6F Hellcat
From our Premier series. Same size as above.
No. AEN6D-AR. Only $174.95
Grumman F6F Hellcat - Loaded
Complete with weapons. See above.
No. AEN6D-AL. Only $194.95
Grumman F6F Hellcat
From our Standard series
1/32nd scale. 16" wingspan by 12.25" long.
No. AEN6D-ST. Only $119.95
Grumman F6F Hellcat
From our Junior series
1/48th scale. 10.5" wingspan by 8.5" long.
No. AEN6D-JR. Only $69.95