| | | |
| --- | --- | --- |
| | Messerschmitt Bf-109 (Me-109) | |
The Messerschmitt Bf-109 was the backbone of the Luftwaffe (German Air Force) during World War II. It began as an entry by the Bayerische Flugzeugwerke in a fighter competition in the early 1930's. It incorporated one of the most advanced aerodynamic designs at the time, with retractable landing gear, an enclosed cockpit, automatic flaps, cantilever wings, and stressed skin construction. The redesignation of the Bayerische Flugzeugwerke AG (Aktiengesellschaft or Corporation) to the Messerschmitt AG in 1938 led many to call it the Me-109, although the official Luftwaffe designation of the aircraft remained the Bf 109 throughout the war.
The Bf-109B first entered combat with German-manned Condor Legion units during the Spanish Civil War. Early in World War II, it dominated the Polish PZL fighters. In the invasion of France in May 1940, it outfought French Morane-Saulnier MS 406s and British Hawker Hurricanes. In the air battles over the English Channel and later during the Battle of Britain the Bf 109E not only exposed its Achilles heel, its short range, but also met its equal, the Supermarine Spitfire. The short range of the Bf 109E prevented it from escorting Luftwaffe bombers past London, leaving the greater part of the British Isles free from enemy attack on training and production sites.
The Bf-109G had a higher top speed, but was less maneuverable than earlier versions. Some later Gs had bulges in front of the cockpit caused by the larger 13mm MG 131 machine guns. Pilots found it increasingly difficult to fly against more capable aircraft such as the P-51D "Mustang." Despite its limitations, the G series was the most numerous of the Bf 109 types and remained in production into 1945. By war's end, Germany had built over 30,000 Bf 109's. Production of the Bf 109 continued on after the war in Czechoslovakia until 1949 and in Spain until 1958. It remains to this day the most produced fighter in history. It is the only German airplane on display in the Smithsonian's World War II gallery. The US Air Force Museum has two.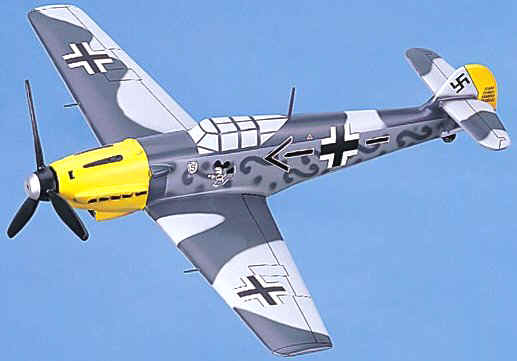 Messerschmitt Bf-109 "Adolf Galland"
From our Premier Series. Gray camouflage. 1/22nd scale. 17.5" wingspan by 15.5" long.
No. AER5D-AR. Only $174.95
Bf-109 "Dragon"
Premier Series. White and Green camouflage.
1/22nd scale. 17.5 wingspan by 15.5" long
No. AER5D-BR. Only $174.95
Bf-109 Deluxe
From our Deluxe Series.
1/24th scale. 16.25"wingspan by 14.25" long.
No. AER5D-DX. Only $139.95
Bf-109 Standard
From our Standard Series.
1/32nd scale. 12" wingspan by 11" long.
No. AER5D-ST. Only $119.95