| | | |
| --- | --- | --- |
| | Fairey Swordfish | |
The Fairey Swordfish was the most widely used British carrier-based airplane of World War II. It was a big, unsophisticated biplane, slow and cumbersome. It looked antiquated, because it was, but it served until the end of the war and survived its intended replacement. Initially, Swordfishes operated from the large fleet carriers. Later Swordfishes operated from escort carriers, and were very effective against U-boats. The nickname Stringbag indicated the versatility of the Swordfish, which could carry an unlikely combination of loads, but also referred to its jungle of bracing wires, which belonged to a past age.
At the outbreak of war, the Fleet Air Arm had 13 squadrons equipped with Swordfishes, most of them based on the six fleet carriers, and three flights of Swordfishes with floats, that operated from catapult-equipped warships. There was little combat until the German invasion of Norway in the spring of 1940. . Then Swordfishes in the Atlantic region conducted mine-laying operations. In the Mediterranean, Swordfishes based on Malta flew anti-shipping strikes, usually at night, against Italian convoys to North Africa. They sank an average of 50,000 tons per month.
Swordfishes were eventually operated from 14 escort carriers and 18 MAC (Merchant Aircraft Carrier) ships. MAC ships were converted oil tankers or grain ships, with a flight deck but minimal maintenance facilities, and the aircraft were continuously exposed to the often appalling weather. For operations from small flight decks with heavy loads, rocket-assisted take-offs were necessary. In their anti-submarine role, the Swordfishes were very successful. They usually flew patrols at night, patrolling between 145km and 40km ahead of the convoy. Targets were located with radar, and investigated by dropping flares. Total production was 2396 aircraft.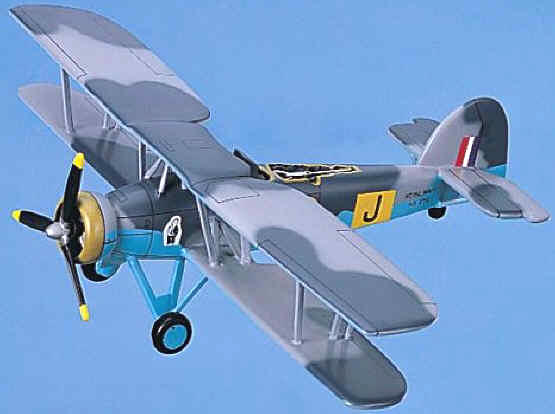 Fairey Swordfish - "Wimpy"
From our Premier Series. Grey Camouflage. 1/36th scale. 17" wingspan by 12" long.
No. AEG5D-BR. Only $224.95
Fairey Swordfish - Royal Navy
Premier Series. Same size as above.
No. AEG5D-RN. Only $224.95
Fairey Swordfish
Deluxe Series. 1/32nd scale.
17.2" wingspan x 13.25 length
No. AEG5D-DX. Only $179.95