| | | |
| --- | --- | --- |
| | Hawker Hurricane | |
In the summer of 1940, Germany launched Operation "Sea Lion," the planned invasion of England. Before troop carrier boats could be launched, air superiority had to be achieved. The Germans massed a huge air armada, consisting of 3,500 bombers and fighters. The Royal Air Force then had 32 Hurricane squadrons, compared with 19 Spitfire squadrons. Together they had 620 fighters. Along with 84 assorted fighters, like the Gloster Gladiator, they were given the job of defeating the vastly superior German Air Force. This resulted in the "Battle of Britain," the first major battle ever fought in the air. The British inflicted such heavy casualties on the Germans that Hitler called off the invasion. The heroic actions of the British pilots led to Prime Minister Winston Churchill's famous remark, "Never in the history of mankind, have so many owed so much to so few." The Hurricane was the main victor of the Battle of Britain.
Design began in 1934. The prototype first took to the air on November 6,1935, and the initial production Hurricane I entered RAF service in December 1937. Squadrons were rapidly equipped with the Hurricane--thanks to the foresight of the Hawker Aircraft directors--and at the time war was declared, on September 3, 1939, just short of 500 Hurricanes had been delivered and eighteen squadrons had been equipped.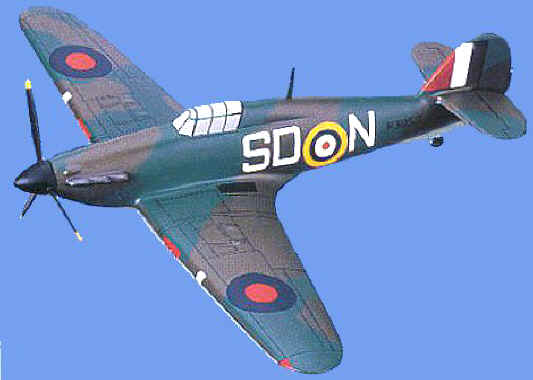 Hawker Hurricane
Premier Series. 1/25 scale. 19.5" wingspan by 15" long.
No. AEG1D-PR. Only $169.95
Hawker Hurricane - Deluxe Series
1/24th scale. 20" wingspan x 16" long.
No. AEG1D-DX. Only $139.95
Hawker Hurricane - Standard Series
1/32nd scale. 15.2" wingspan x 11.75 length
No. AEG1D-ST. Only $119.95