| | | |
| --- | --- | --- |
| | McDonnell F4H Phantom II | |
After losing out to the F8U Crusader in a competitive bid for a Navy Supersonic air-superiority fighter, McDonnell began a company funded project in 1952 to produce a carrier-borne fighter-bomber as a replacement for its F3H Demon. The outcome was the single-seat, multi-role (i.e., fighter, attack, photo reconnaissance, ECM) AH-1 aircraft with a top-speed of Mach 1.5.
After the purchase of two AH-1 prototypes in 1954, Navy specifications were revised to provide for two-crew manning (pilot and Radar Intercept Officer), the Sparrow III (and eventually the Sidewinder) guided missile weapons system, and two GE J-79 engines with 17,000 lbs thrust each for Mach 2+ speed. The combined thrust of the two engines in after-burner gave it a thrust-to-weight ratio greater than one which meant that the F-4 could climb straight up after take-off. The aircraft designation was then changed from AH-l to F4H-l and named the "Phantom II", one of the most famous aircraft in the history of military aviation. Its maiden flight occurred in 1958 with deliveries to Navy and Marine squadrons beginning in 1960.
In the space of about twenty-eight months since its introduction, the F-4 had established 15 world aviation records including altitude (98,500 ft), time-to-climb and speed (Mach 2.59). These factors coupled with a demonstrated capability to lift a load of up to 22,000 lbs convinced the Air Force to procure the aircraft whose performance qualities were as good or better than their best fighters.
Navy, Marine Corps and Air Force F-4s were used extensively during the Vietnam conflict as high and low altitude bombers delivering a wide array of ordnance, and as fighters downing 107 enemy aircraft in aerial combat. Three MiG-17s including one flown by the leading ace of North Vietnam were downed on a single mission by a Navy pilot and his RIO - the Navy's only MiG ace of the war. The F-4s also saw significant combat with the Israel air force in the same roles during the Israel/Arab wars
Over 5,000 F-4s were produced of which 1500 were still in use by 1992 and second only to the MiG-21 in numbers produced. It has served the Air Forces of twelve foreign countries and is the only aircraft to be flown concurrently by the Navy and Air Force flight demonstration teams. While Navy and Marine Corps F-4's were replaced by the Grumman F-14 "Tomcat", the Air Force still retains some for special mission roles. All-in-all, the F-4 has quite a record for an aircraft variously referred to as the "Big Ugly", "Flying Anvil", and "Big Iron Sled."
F-4 Phantom II - United States Navy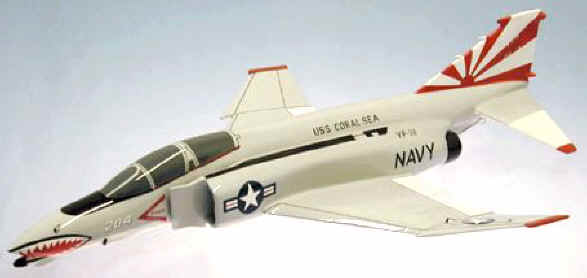 F-4N Phantom II "VF-111 Sundowner" - NEW
Premier Series. 1/45th scale. 11" wingspan x 17" long.
Comes loaded with weapons, but not shown in photo. See below pictures.
No. AFNAD-N5. Only $194.95
F-4E Phantom II "Playboy"
Premier Series. 1/45th scale. Loaded.
11" wingspan x 17" long.
No. AFNAD-N6. Only $194.95
F-4J Phantom - Carrier Midway
11" wingspan x 17" long.
Premier Series. 1/45th scale. Loaded.
No. AFNAD-N3. Only $194.95
F-4B Phantom II, "Jolly Roger"
Premier Series. 1/45th scale. Loaded.
11" wingspan x 17" long.
No.AFNAD-N1. Only $194.95
F-4J Phantom II, "USS America"
Premier Series. 1/45th scale. Loaded.
11" wingspan x 17" long.
No. AFNAD-N2. Only $194.95
F-4J Phantom II - USS Constellation
Premier Series. 1/45th scale. Loaded.
11" wingspan x 17" long.
No. AFNAD-N4. Only $194.95
F-4B-1 Phantom II
Deluxe Series. 1/40th scale.
11.5" wingspan x 17.5" long.
No. AFNAD-DX. Only $149.95
F-4N Phantom II
Standard Series. 1/48th scale.
10" wingspan x 16.5" long.
No. AFNAD-ST. Only $129.95
F-4 Phantom II - United States Marine Corps
F-4S Phantom II
Premier Series. 1/40th scale. Loaded.
11" wingspan x 17" long.
No. AFNAD-M4. Only $194.95
F-4J Phantom II
Premier Series. 1/45th scale. Loaded.
11" wingspan x 17" long.
No. AFNAD-M2. Only $194.95.
F-4J Phantom II
Premier Series. 1/40th scale. Loaded.
11" wingspan x 17" long.
No. AFNAD-M3. Only $194.95
F-4B Phantom II
Premier Series. 1/40th scale. Loaded.
11" wingspan x 17" long.
No. AFNAD-M1. Only $194.95
See: USAF Phantom IIs