| | | |
| --- | --- | --- |
| | Douglas A-4M Skyhawk | |
The Douglas A-4D "Skyhawk" was designed by the late Ed Heinemann in response to a Navy requirement for a fast (but compact) long-range, light-weight carrier jet aircraft capable of delivering a nuclear weapon. Prototype test results in 1954 confirmed that the "Skyhawk" exceeded all of the Navy's criteria. Because of its small size (wing span less than that of a Piper "Cub") and ease with which flight deck personnel could handle it in comparison with other jet aircraft, A-4Ds became known variously as either "Scooters", "Tinker Toys" or "Heinemann's Hot Rod".
An A-4 set a world speed record of over 695 mph in 1959 for class C aircraft over a 500 km course. Fitted with two 150 gallon under wing drop tanks, two A-4Ds flew 2,082 miles non-stop without in-flight refueling in a demonstration of its long-range capability.
The A-4 was stress limited to 24,500 lb total weight for catapult launches, and 5,000 lb ordnance loads on a center line and four wing racks ranging from conventional bombs, to sophisticated weapons such as the Gatling gun, "Bullpup", "Walleye", "Shrike" and, in one case, "Sidewinder" air-to-air missiles. Built into the aircraft were two 20 mm cannons.
The "Skyhawk" participated in the first raids of the Vietnam war and became one of the primary strike aircraft thereafter until replaced by the A-7 "Corsair" in the 1969 time-frame. An A-4C is credited with shooting down a MiG -17 over Vietnam. The A4Ds endured the most losses of any carrier-based aircraft in Vietnam with the loss of 195 of them in combat including those piloted by Senator John McCain and Vice Admiral James Stockdale as well as the first two victims of surface-to-air guided missiles during that conflict. The A-4 also saw considerable combat action during the Arab/Israel and Falkland Island wars.
Nearly 3,000 A-4s were produced from 1956 to 1979 for use by the Navy and Marine Corps as well as Australia, Israel, Argentina and Kuwait. A two-seat trainer version was still used by the Navy until late 1999.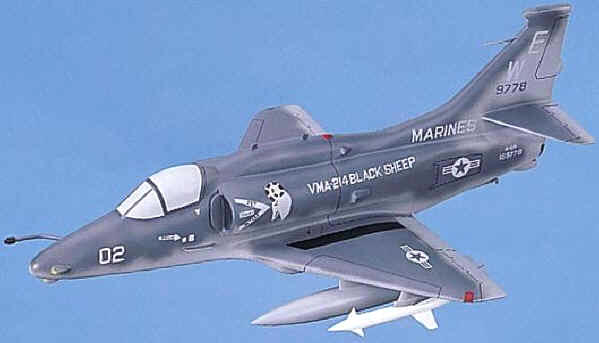 A-4M Sky Hawk, USMC "Black Sheep"
Premier Series 1/32nd scale. 10.5" wingspan x 15" long.
No. AFN3D-BL. Only $194.95
A-4M Sky Hawk, USN
Premier Series 1/32nd scale.
10.5" wingspan x 15" long.
No. AFN3D-AL. Only $194.95

A-4M Skyhawk, USMC
Deluxe Series. 1/32nd scale
10.25" wingspan x 15.25" long.
No. AFN3D-DM. Only 149.95
TA-4J Skyhawk, USN Trainer
Standard Series. 1/32nd scale.
10.5" wingspan x 18" long.
No. AFN3D-ST. Only $119.95
A-4M Skyhawk, US Navy
Deluxe Series. 1/32nd scale
10.25" wingspan x 15.25" long.
No. AFN3D-DN. Only 149.95