| | | |
| --- | --- | --- |
| | Grumann F9F-2/5 (F-9) Panther, Cougar | |
The plans originally drawn in 1946 by the Grumman Aircraft Corporation for a night fighter were refined in favor of a day fighter utilizing a 5,000 lb thrust Pratt & Whitney engine manufactured under patent from Rolls Royce of Britain. On the basis of initial test flight data by Grumman pilots, production orders from the Navy were contracted before completion of their tests. Designated as the F9F "Panther", the 500 mph fighter proved ideal for carrier operations in that it was capable of taking off in 800 feet (430 feet in a 30 knot wind) and could land at speeds between 85 and 90 mph.
First delivered in 1949, the "Panther" soon outfitted most Navy squadrons as well as 3 Marine Corps squadrons. During joint exercises involving Navy, Marine and Air Force units, a Marine squadron with its "Panthers" were credited with the theoretical destruction of ninety F-84 "Thunderjets" with a loss of only nine F9F's.
During the Korean war, the "Panther" proved to be a pace setter in establishing several firsts for Navy carrier-based jet operations: first to participate in combat; first to shoot down enemy aircraft including a Yak-9 and the famous Mig-15; and, first air-to-ground bombing attack. The "Panther" was also deployed in a reconnaissance role by the Navy and as fighter-bombers by land-based Marine Corps squadrons. On the home front it was used by the Navy's flight demonstration team, the "Blue Angels", in 1950 and 1952 through 1954. The "Panther" underwent a number of design changes during its service life including a fuselage extension and a 35-degree swept-wing conversion to be rechristened the "Cougar".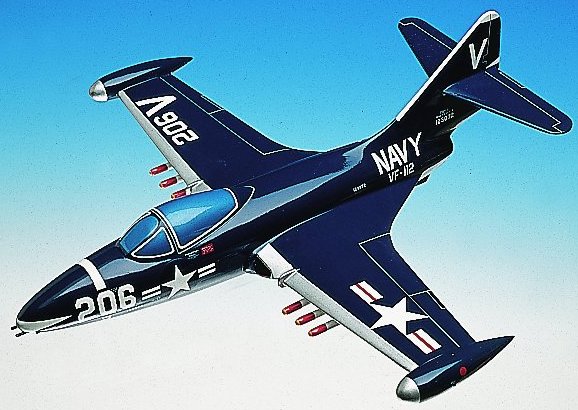 F9F-5 Panther
Standard Series. 1/32nd scale. 13.65" wingspan x 13.5" long.
No. AFN7D-SP. Only $129.95
F9F-8 Cougar
Standard Series. 1/32nd scale.
13.5" wingspan x 17.65" long
No. AFN7D-SC. Only $139.95