| | | |
| --- | --- | --- |
| | Vought A-7 Corsair II | |
In May 1964, a design proposal by the Chance Vought Corporation was accepted by the Navy as the replacement for the A4D Skyhawk. The first A-7A with an 11,350 lb thrust Pratt and Whitney engine flew in September 1965, and was introduced into Vietnam combat operations in December 1967 where it and subsequent models proved to be one of the most effective close support and strike aircraft used by the Navy in that conflict. Engine thrust was increased to 12,200 lbs in the A-7B with an advanced P&W engine, and ultimately to 14,250 lbs in the A-7E with the Allison-built Rolls-Royce Spey engine utilized by the USAF in their version of the Corsair II (the A-7D). Sixty early A-7B/A-7E airframes were converted to a two-seat advanced trainer derivative with full operational capability and designated as the TA-7C.
The A-7E (whose procurement ended in 1983) incorporated a greatly improved avionics installation including heads-up display, an M-61 multi-barrel cannon, an improved hydraulic system and anti-skid brakes. At the peak of utilization, 22 Navy squadrons were equipped with the A-7E. Transition of some of these units to the F/A-18 Hornet began in 1987. The last of 850 A-7s were retired from the Navy's inventory following participation in Desert Storm combat operations.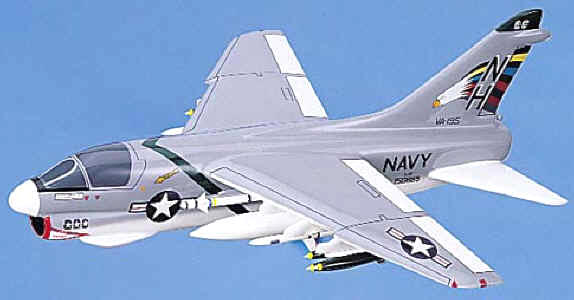 A-7 Corsair II
Premier Series. Loaded with weapons. 1/50th scale. 10.5" wingspan x 11.5" long.
No. AFN5D-PR. Only $194.95