| | | |
| --- | --- | --- |
| | Douglas F4D-1 Skyray | |
In June 1947 Douglas Aircraft Corporation received a Navy contract for the study of a delta-wing fighter. Approval of preliminary designs and engineering concepts 18 months later led to a contract for two prototypes (XF4D-1s) that were delivered and first flown in January 1951. The XF4D-1 proved not to be a true delta-wing but rather a swept-wing with low aspect ratio. Testing trials followed by carrier suitability tests proved quite successful and full scale production of 420 F4D "Skyrays" commenced thereafter. During test phases the XF4D-1 prototypes established speed records over the International 3 km course (755 mph) and the 100 km closed circuit course (728 mph).
Armed with 20 mm cannons and Sidewinder air-to-air missiles, the F4D was capable of carrying a weapons load compatible with its mission to intercept enemy aircraft before they reached their target. As an interceptor, the F4D established five world rate-of-climb records which, in turn, led to the assignment of a Navy all-weather F4D squadron at San Diego and one at Key West to the Air Force's North American Air Defense Command in an interceptor role. The San Diego unit earned honors as the best in NORAD for two years running. The last of the short-ranged "Skyrays" served until 1964.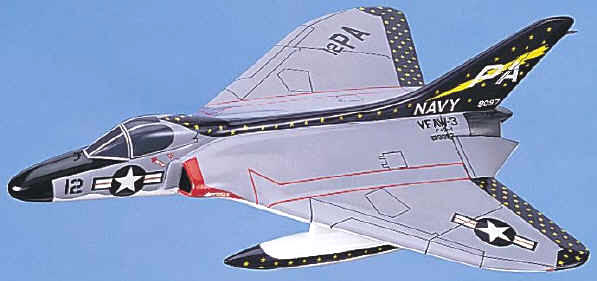 F4D-1 Skyray, USN
Premier Series. 1/34th scale. 12.75 wingspan x 15.5" long
No. AFN2D-AL. Only $194.95
F4D-1 Skyray, USMC
Premier Series. 1/34th scale.
12.75 wingspan x 15.5" long
No. AFN2D-BL. Only $194.95
F4D-1 Skyray, USN
Deluxe Series. 1/32nd scale.
12.85" wingspan x 16.75" Long.
No. AFN2D-DX. Only $139.95