| | | |
| --- | --- | --- |
| | North American T-28 Trojan | |
Originally produced by North American for the Air Force, the T-28A "Trojan" made its maiden flight on September 26, 1949. With a top speed of 292 mph, 800 nm range and service ceiling of 31,650 feet, the Navy began evaluating it as a replacement for the SNJ "Texan" trainer. The results showed that the Navy version required a more powerful engine and North American responded with the T-28B that was fitted with a 1,425 hp Wright R-1820 engine which upped the speed to 343 mph. First flown on April 6, 1953, the delivery of 489 of this model began in 1954 to ultimately equip eleven training squadrons in both the primary and basic training roles.
The success of the T-28Bs resulted in the placement of an order for the tail hook equipped T-28C with a strengthened rear fuselage to absorb the tremendous stress of carrier landings. Making its first flight on September 19, 1955, the T-28C became the center piece for all Navy flight training - basic, primary, instrument, and carrier qualifications.
The T-28 was actively utilized in the Viet Nam war as the T-28D "Nomad" equipped to carry a variety of weapons ranging from bombs and rockets to napalm and used for counterinsurgency missions throughout Southeast Asia. It was especially effective in night operations against targets not protected by radar controlled anti-aircraft batteries and as armed escorts of A-26 attack aircraft and helicopters. They also operated in hunter/killer teams with 0-1 aircraft that used starlight scopes to locate enemy convoys and then call in the T-28s to attack.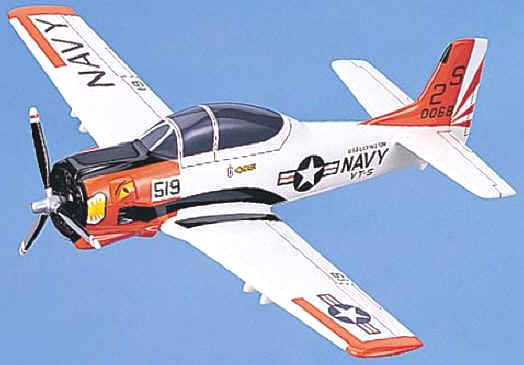 T-28 Trojan
Premier Series. 1/32nd scale. 15.5" wingspan x 12.5" long.
No. AFPAD-PR. Only $174.95
T-28 Trojan
Standard Series. 1/32nd scale.
15" wingspan x 12.25" long.
No. AFPAD-ST. Only $119.95