| | | |
| --- | --- | --- |
| | Lockheed P-3 Orion | |
In 1957, the Navy called for design proposals for a new high-performance anti-submarine patrol aircraft. It suggested that manufacturers try to adapt an existing plane to the task. Lockheed won the design contest by adapting its commercial turboprop, the L-188 Electra. It retained the wings, tail unit, power plant and much of the fuselage. The latter was shortened by about seven feet and incorporated a weapons-bay together with extensive new electronics and other systems. A prototype of the ASW aircraft (designated YP3V-1 and later changed to P-3) was first flown in late 1959. The name "Orion" was adopted in late 1960. Delivery of P-3A production models to fleet units began in August 1962.
The "Orion" was fully equipped for its ASW role, with extensive electronics in the fuselage plus stowage for search stores, and a 13 ft-long unpressurized bomb-bay equipped to carry torpedoes, depth-bombs, mines or nuclear weapons. Ten external pylons under the wings could carry mines or rockets. A searchlight was located under the starboard wing.
Variants of the P-3 included weather reconnaissance aircraft and electronic reconnaissance aircraft that carried special radar, with radomes in long fairings above and below the fuselage and an additional ventral radome forward of the wing. P-3A models were followed and replaced in quick succession by the P-3B and P-3C models each of which incorporated improved electronics. A limited number of P-3s were produced for export under the Military Assistance Program.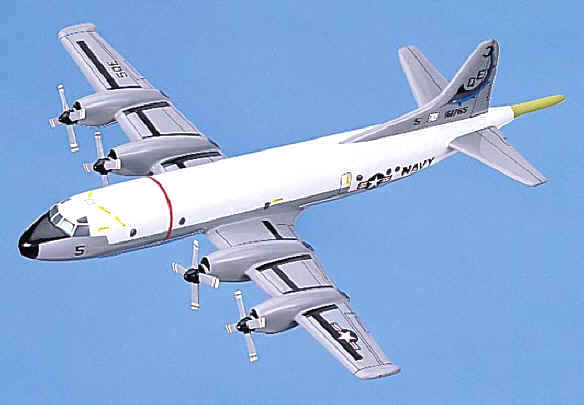 P-3 Orion
Premier Series. 1/100th scale. 12.5" wingspan x 14" long.
No. AFP2D-PR. Only $174.95
P-3 Orion, Grey & White
Standard Series. 1/85th scale.
14" wingspan x 16.25" long.
No. AFP2D-S1. Only $139.95
P-3 Orion, All Grey
Standard Series. 1/85th scale.
14" wingspan x 16.25" long.
No. AFP2D-S2. Only $139.95