| | | |
| --- | --- | --- |
| | Republic P-47 Thunderbolt | |
Affectionately nicknamed "Jug," the P-47 was one of the most famous AAF fighter planes of WW II. Although originally conceived as a lightweight interceptor, the P-47 developed as a heavyweight fighter and made its first flight on May 6, 1941. The first production model was delivered to the AAF in March 1942, and in April 1943 the Thunderbolt flew its first combat mission--a sweep over Western Europe. Used as both a high-altitude escort fighter and a low-level fighter-bomber, the P-47 quickly gained a reputation for ruggedness. Its sturdy construction and air-cooled radial engine enabled the Thunderbolt to absorb severe battle damage and keep flying. During WW II, the P-47 served in almost every active war theater and in the forces of several Allied nations. By the end of WW II, more than 15,600 Thunderbolts had been built.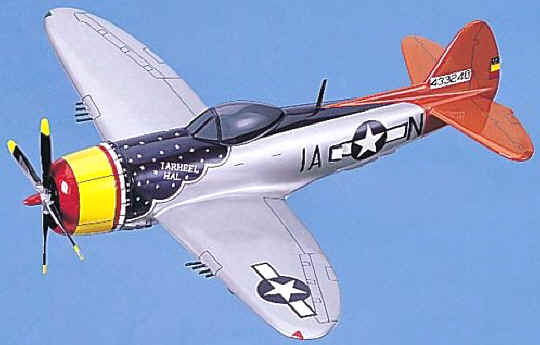 Republic P-47 Thunderbolt "Tarheel Hal"
This Premier Series model is made of hand-carved Philippine mahogany and meticulously detailed. Note the bubble top. 1/32nd scale. 15" wingspan x 13.5" Length.
No. AEF6D-CR. Only $169.95.
P-47 Thunderbolt "Bonnie"
From our Premier Series. Same size as above.
No. AEF6D-BR. Only $169.95
P-47 Thunderbolt "Rabbit"
From our Premier Series. Same size as above.
No. AEF6D-AR. Only $169.95
P-47 Thunderbolt, Deluxe
From our Deluxe Series. 1/32nd scale.
Wingspan 15.25" x 13.6" length.
No. AEF6D-DX. Only $139.95
P-47 Thunderbolt "Razorback"
From out Standard Series.
1/32nd scale. Wingspan 14" x 14" length.
No. AEF6D-S1. Only $119.95
P-47 Thunderbolt "Tarheel Hal"
From our Standard Series
Same design as shown above under the Premier Series Models. 1/32nd scale.
Wingspan 14' x 14" length.
No. AEF6D-S2. Only $119.95

P-47 Thunderbolt "Junior"
1/48th scale. Wingspan 10.5" x 9" length
No. AEF6D-JR. Only $69.95