| | | |
| --- | --- | --- |
| | Consolidated B-24 Liberator | |
The B-24 was employed in operations in every combat theater during World War II. Because of its great range, it was particularly suited for such missions as the famous raid from North Africa against the oil industry at Ploesti, Rumania on August 1, 1943. This feature also made the airplane suitable for long over-water missions in the Pacific Theater. More than 18,000 Liberators were produced.
The B24 Liberator served as a heavy bomber, maritime patrol plane and as a transport plane. It was produced in greater numbers than any other American bomber, with some 18,000 being built. It served in all theatres. It replaced the B17 as the primary Heavy Bomber in the Pacific because of its greater range, but was itself pushed out of the limelight there by the massive B29 Superfortress. The B24 served in large numbers in Europe as well and played an important role in the bombing campaign on the continent. The B24 figured prominently in "Operation Soapsuds", one of the most famous bombing raids of the War. Despite the heavy losses endured in that raid, the B24 suffered an lower loss rate overall than its cousin the Fort.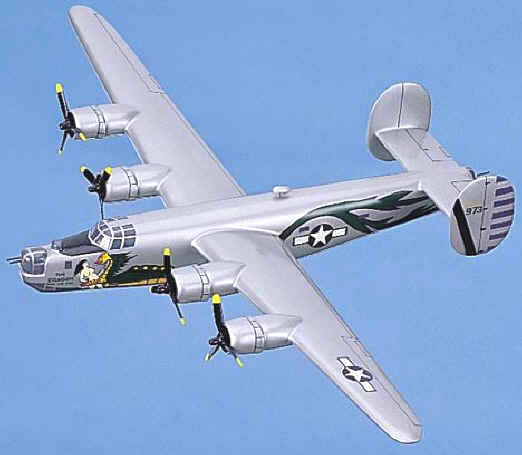 B-24J "Dragon and Tail"
This magnificent Premier Series model is hand carved from Philippine mahogany then carefully sanded, sealed and hand painted. 1/62nd scale. 18.5" wingspan by 12" long.
No AEB2D-DT. Only $184.95
B-24J Liberator "Moby Dick"
B-24J Liberator "Tubarao"
More display models from our Premier Series.
1/62nd scale. 18.5" wingspan by 12" long.
B-24J Liberator "Moby Dick"
No. AEB2D-MB. Only $174.95
No. AEB2D-TB. Only $174.95
B-24J Liberator. "Silver V"
No. AEB2D-SV. Only$174.95
B-24J Liberator "Silver V"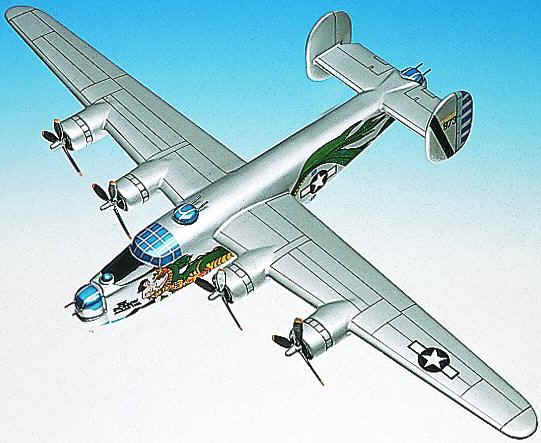 B-24J Liberator "Silver Elite"
Deluxe Series. 1/60 scale. 22" wingspan by 13.25" length
No. AEB2D-SE. Only $139.95
B-24s from out Standard Series
1/72nd scale. 18.5" wingspan by 12" long.
B-24J Liberator, Standard Silver
No. AEB2D-S1. Only $119.95
B-24J Liberator, Standard O.D.
No. AEB2D-S2. Only $119.95