| | | |
| --- | --- | --- |
| | B-29 Superfortress | |
The Boeing B-29 was designed in 1940 as an eventual replacement for the B-17 and B-24. The airplane was loaded with incendiaries and used to firebomb Japan to virtually ashes, but it is best known as the first (and only) airplane to ever drop an atomic bomb. The "Enola Gay" dropped the first one on Hiroshima, Japan and "Boxcar" dropped the second on Nagasaki.
The prototype made its first flight on September 21, 1942. It was designed as a long-range strategic bomber. Soon it was decided that its long range would be more useful in the Pacific Theater where vast expanses of oceans separated bases from their targets. It was first used to attack the Japanese homeland from bases in China. During the last two months of 1944, B-29s began operating against Japan from the islands of Saipan, Guam and Tinian.
The "Enola Gay" is owned by the Smithsonian Air and Space Museum. The restored forward fuselage and other parts of the airplane were exhibited publicly downtown on the Washington, D. C., Mall for the first time in May 1995. Once the entire airplane has been fully restored, it will be display at the Steven F. Udvar-Hazy Center south of the Dulles International Airport in December 2003. "Boxcar" is on display at the Air Force Museum in Dayton, Ohio.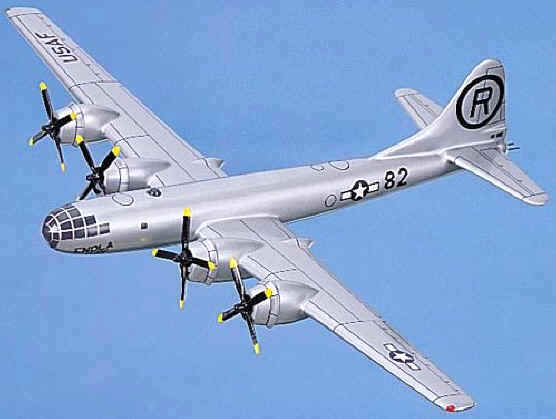 B-29 Superfortress "Enola Gay"
The plane that dropped the atomic bomb on Hiroshima.
From our Premier Series. 1/78th scale. 22" wingspan by 15" long.
No. AEB5D-EG. Only $174.95
B-29 Superfortress "Lucky Strike"
Premier Series. Same size as above.
No. AEB5D-LS. Only $174.95
B-29 Superfortress - Circle X
Premier Series. Same size as above.
No. AEB5D-CX. Only $174.95
B-29 Superfortress "Fifi"
Premier Series. Same size as above.
No. AEB5D-FF. Only $174.95
B-29 Superfortress
Standard Series. 1/72nd Scale
23.75" wingspan by 17" long.
No. AEB5D-S2. Only $139.95
B-29 Superfortress - "Enola Gay"
Standard Series. 1/72nd Scale
23.75" wingspan by 17" long.
No. AEB5D-S1. Only $139.95