| | | |
| --- | --- | --- |
| | Douglas A-26 Invader | |
The Douglas A-26 Invader first went into combat in November 1944 and quickly earned a reputation for being a rugged and dependable aircraft. They saw combat with the Ninth Air Force in Europe and in the Pacific Theater. After a reorganization in 1948, the Invader was redesignated the B-26, but it should not be confused with the Martin aircraft, the Marauder.
The Invader served with distinction during the Korean War as a night attack aircraft. It earned a place in history as being the type of aircraft that dropped the first and last bombs over Korea. In between, the A-26 flew over 60,000 combat sorties with a loss of only 56 aircraft to enemy fire.
The Invader was also used in the early days of the Vietnam Conflict, flying ground attack missions against the flow of enemy troops and material that came down the Ho Chi Minh Trail. The last combat mission of the Invader took place in 1969, a full 25 years after it first entered service.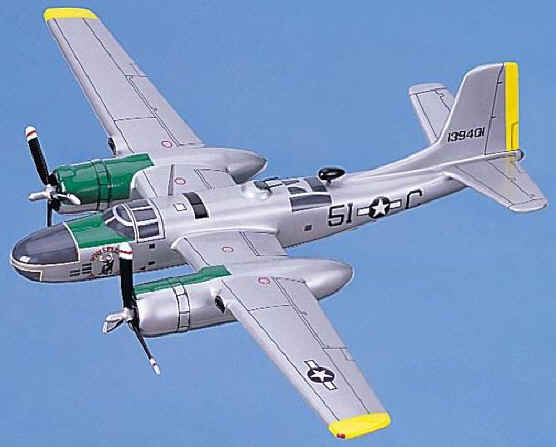 Douglas A-26 Invader "Whistler's Mother"
From our Premier Series. World War II markings. 1/28th scale. 22.5" wingspan by 16.5" long.
No. AEB7D-PR. Only $174.95