| | | |
| --- | --- | --- |
| | DeHaviland DH-4 | |
The De Havilland DH-4 was was the only US built aircraft to see combat during World War I. When the US entered the war in April 1917, the Aviation Section of the Signal Corps only had 132 aircraft, and all were obsolete. Colonel R. C. Bolling was commissioned to study current Allied aircraft designs being used at the front and to arrange for their manufacture in America. Several European aircraft were considered, but the DH-4 was selected because of its comparatively simple construction and its apparent adaptability to mass production.
After completing trials in October 1917, production contracts were placed for the DH-4. It was dubbed the "Liberty Plane." By the end of the war on November 11, 1918, three U.S. manufacturers were building them. The largest producer was the Dayton-Wright Airplane Company of Dayton, Ohio, which built 3,106 airplanes. The Fisher Body Division of General Motors Corporation of Cleveland, Ohio, produced 1,600 aircraft, and the Standard Aircraft Corporation of Patterson, New Jersey, built 140 machines. Plans were under way to produce an additional 7,502 DH-4s, but orders were cancelled after the armistice.
The first American-built DH-4 reached France on May 11, 1918. However, they needed to be made combat ready and the mission was not flown until August 2. By war's end, thirteen Army Air Service squadrons, five of them bomber squadrons, were equipped with the Liberty Plane. In addition, four combined Navy-Marine squadrons were flying DH-4s along the Belgian coast. Of the 4,346 DH-4s built in the United States, 1,213 were delivered to France, and of those only 696 reached the Zone of Advance. Although the American DH-4s were in combat for less than four months, they proved their worth. Of the six Medals of Honor awarded to aviators during the First World War, four were received by pilots and observers flying DH-4s.
The DH-4 continued in military service for many years after the war. It was the principal aircraft used by the U.S. Government when air mail service began in 1918. A few were transferred to the new airlines that took over the mail services in 1926-1930. The U.S. Army Air Service, later Army Air Corps, operated them until 1932. The War Department transferred the NASM DH-4 to the Smithsonian Institution in 1919. The National Air and Space Museum restored the aircraft in 1980-1981.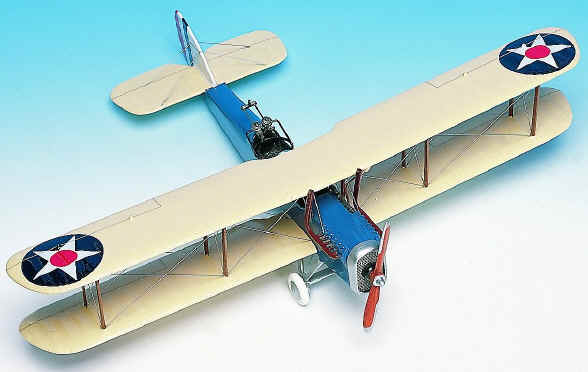 Dehavilland DH-4
Deluxe Series. 1/24th scale. 21" wingspan x 14.5" long.
No. ACA2D-DX. Only $179.95