| | | |
| --- | --- | --- |
| | Curtis JN-4 Jenny, Trainer | |
The Curtiss "Jenny" America's most famous World War I airplane, was developed by combining the best features of the Curtiss "J" and "N" models. The model J made in 1914 flew reconnaissance against Pancho Villa's Mexican revolutionaries. A 1915 version, the JN-3, was used in 1916 during Pershing's Punitive Expedition into Mexico. Its poor performance, however, made it unsuited for field operations. The JN-3 was modified in 1916 to improve its performance and redesignated the JN-4, affectionately nicknamed the "Jenny."
The twin seat arrangement was ideal for training purposes, so it was generally used for primary flight training; some were equipped with machine guns and bomb racks for advanced training. With America's entry into World War I on April 6, 1917, the Signal Corps began ordering large quantities of JN-4s, and by the time production was terminated after the Armistice, more than 6,000 had been delivered, the majority of them JN-4D. After World War I, hundreds were sold on the civilian market. The airplane soon became the mainstay of the "Barnstormer" of the 1920s.
Availability, low cost, and forgiving handling characteristics made it very popular. Appearance throughout the country awakened people to aviation; became part of American folklore in early 20s. On the other hand, large number and low cost of surplus Jennies effectively killed the market for new aircraft until mid-20s. New models did not gain a foothold until supply of surplus aircraft exhausted. Jennies were still being flown in the 1930s.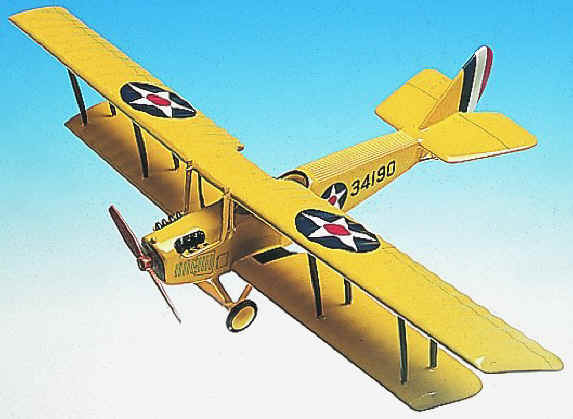 Curtis JN-4 Jenny, Trainer
Standard Series. 1/32nd scale. 16.6" wingspan x 10.75 length.
No. ACA1D-ST. Only $139.95