| | | |
| --- | --- | --- |
| | Grumann F-14 Tomcat | |
Sleek...powerful...and deadly, the F-14 Tomcat was the REAL star of the movie Top Gun. The F-14 Tomcat followed a history of "Cats" in the military. The F-4F Wildcat and the F-6F Hellcat that fought in the skies years before the Tomcat ever bit the air. In the late 1960's, the US Navy dropped its TFX program, and decided to focus on an aircraft dedicated to fleet defense. Grumman had already begun developing the F-14, and was definitely headed for a "Cat" designation. The person responsible for this project was Admiral Tom Conolly, Deputy Chief, Naval Operations for Air. The aircraft was dubbed "Tom's Cat" long before the official name of "Tomcat" was ever adopted.
The ability to sweep its wings aft 43 degrees from the horizontal, coupled with twin 21,000 lb thrust engines enables the F-14 to achieve speeds in excess of twice the speed of sound. The degree of variable sweep is a function of aircraft speed and is computer controlled. As aircraft speed bleeds off for whatever reason (high-g's, landing, etc.), the computer automatically compensates by extending the wing for more lift to prevent a stall from occurring.
The F-14As made a brief appearance over Vietnam, flying protective patrols for helicopters effecting the final evacuation of US forces from Saigon with no opposition from enemy fighters. The Middle East was to become the scene of the Tomcat's combat initiation during encounters with Libyan fighters over the Gulf of Sidra in 1981 when several Sukhoi SU-22 fighters were shot down. In its interceptor roll, the F-14 proved invaluable during the gulf war providing cover for airborne Navy and USAF support aircraft as well as blocking Iraqi aircraft from flying to safe-havens in Iran.
Reduction of force requirements and concurrent cuts in defense spending has resulted in the F-14s being gradually replaced by F/A-18s. While the latter aircraft lacks the long range air defense capability of the F-14, it is cheaper to produce and costs less to operate per flight hour.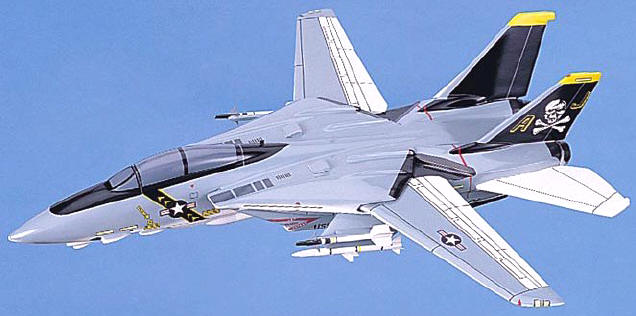 F-14 Tomcat - "Jolly Roger"
Premier Series. Loaded with weapons. 1/43rd scale. 11.5" wingspan (wings closed) x 18.5" long.
No. AGN3D-P2. Only $249.95
F-14 Tomcat - "Wolfpack"
Premier Series. Same size as above.
No. AGN3D-P1. Only $249.95
F-14 Tomcat - "Black Cat"
Premier Series. Same size as above.
No. AGN3D-P3. Only $249.95
F-14 Tomcat - "Jolly Rodger"
Standard Series. 1/48th scale.
9" to16" wingspan x 16" long.
No. AGN3D-S1. Only $139.95
F-14 Tomcat - "Sundowner"
Standard Series. 1/48th scale.
9" to16" wingspan x 16" long.
No. AGN3D-S2. Only $139.95
F-14 Tomcat
Standard Series. 1/72nd scale.
6.25" wingspan (fixed) x 10" long.
No. AGN3D-JR. Only $69.95