| | | |
| --- | --- | --- |
| | Beech T-1A Jayhawk | |
The T-1A Jayhawk is a medium-range, twin-engine jet trainer, a version of the Beech 400A. It is was the first new training aircraft procured by the Air Force in 30 years. The first aircraft was delivered to Reese Air Force Base, Texas in January 1992. It is used to train student pilots to fly airlift or tanker aircraft. Student training in the T-1A began at Reese in 1993.
The Jayhawk has cockpit seating for an instructor and two students and is powered by twin turbofan engines capable of an operating speed of Mach .73. The T-1A differs from its commercial counterpart by having a single-point refueling system and increased bird strike protection in the windshield and leading edges for sustained low-level operation. The T-1A is used at all undergraduate pilot training bases: Columbus AFB, Miss.; Laughlin AFB, Texas; and Vance AFB, Okla. It is also used at Randolph AFB, Texas, to train instructor pilots.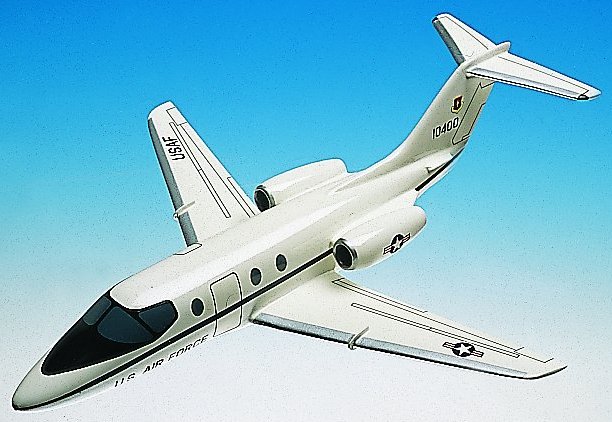 T-1A Jawhawk
Standard Series. 1/48th scale. 10.85" wingspan x 12' long.
No. AGC7D-ST. Only $119.95