| | | |
| --- | --- | --- |
| | Raytheon T-6A Texan II | |
The T-6A Texan II is a single-engine, two-seat primary trainer aircraft built on an all aluminum frame. Produced by Raytheon Aircraft with corporate headquarters in Wichita Kan., the T-6A is a military trainer version of that company's Beech/Pilatus PC-9 Mk II. Stepped-tandem seating in the single cockpit places one crewmember in front of the other, with the student pilot in the front seat and the instructor pilot in the rear. A single pilot may also fly the aircraft from the front seat.
A Pratt & Whitney Canada PT6A-68 turbo-prop engine that delivers 1,100 horsepower powers the T-6A. The aircraft is 33.3 feet long with a wingspan of 33.4 feet. Its tail height is 10.6 feet. The T-6A has a maximum takeoff weight of 6,500 pounds. The aircraft is fully aerobatic with a pressurized cabin. It features all digital avionics and an anti-G system.
The T-6A will be used to train entry-level aviation students, providing the skills necessary to progress to one of four training tracks: the Air Force bomber-fighter track; Air Force airlift-tanker or Navy maritime track; Navy strike track; or Air Force-Navy helicopter track, traditionally accomplished through U.S. Army helicopter training. Service-specific training programs will include the Air Force Specialized Undergraduate Pilot Training, Specialized Undergraduate Navigator Training and the Navy Undergraduate Naval Pilot Training and Undergraduate Flight Officer Training. In addition, the T-6A may support Euro-NATO Joint Jet Pilot Training, conducted by Air Education and Training Command.
The T-6A can fly at speeds in excess of 270 knots true air speed. Its certified ceiling is 31,000 feet, and it has a range of more than 900 nautical miles. Because of its excellent thrust-to-weight ratio, the aircraft can perform an initial climb of 3,300 feet per minute and can reach 18,000 feet in less than six minutes.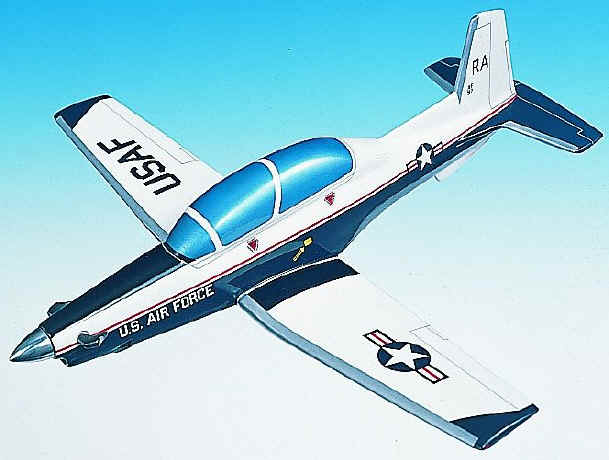 Raytheon-Beech T-6A Texan II
1/32nd scale. 12.35" wingspan x 12" long.
No. AGC6D-ST. Only $139.95