| | |
| --- | --- |
| | Dassault Mirage III, France -1956 |
Dassault Mirage III-001 flew for the first time on November 18, 1956, and after just over two months it had been flown at a speed of Mach 1.52. Modifications soon boosted the speed of the airplane to Mach 1.8, soon attracting the interest of the French air force, which ordered 10 of the improved preproduction Mirage IIIAs. First flown on May 12, 1958, the production Mirage IIIA demonstrated a maximum speed of Mach 2.2 with the use of an auxiliary rocket motor. When series production of this airplane finished in 1989, over 1,400 Mirage IIIs, Vs, and 50s had been delivered, nearly 950 of them for export.
About half the existing Mirage III operators have embarked on upgrade programs to extend the lives of their aircraft, some of which are now 20-30 years old. The last version of this airplane, the Mirage 50, was powered by one 15,873-lb thrust SNECMA Atar 9K-50 turbojet, with a maximum speed at altitude of Mach 2.2; service ceiling at Mach 2 of 59,055 ft; and combat radius with two 882-lb bombs of 391 miles. Airplane armament can include basic armament of two 30-mm DEFA cannon in fuselage, plus a wide variety of external stores on seven attachment points. Later versions of the Mirage continue currently.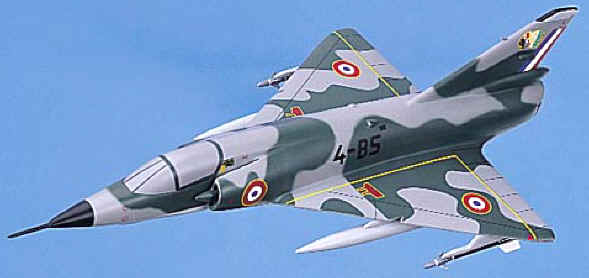 Dassault Mirage III
Premier Series. 1/40th scale. 8.5" wingspan x 16" long.
No. AFW2D-PR. Only $194.95