| | |
| --- | --- |
| | CF-105 Arrow, Canada - 1959 |
The great significance of the CF-105 is that it marked Canada's entry into the production of fighter aircraft. It began in the mid-1950s when government decided to develop its own fighters. It would reduce dependence on other countries and create jobs for Canadians. The first Avro CF-105 Arrow coded RL-201 rolled out on October 4th, 1957. It broke the sound barrier on its maiden flight and six test flights later, it reached a speed of mach 1.52.
Apparently the government felt that it had gotten in over it's head. On February 20th 1959, John George Diefenbaker announced that the Arrow program was to be canceled. Avro was told to immediately halt on the construction of the CF-105s. All five prototypes and the first four nearly-completed Arrow Mark.2s were to be destroyed and sold for 6.5 cents per pound. Avro laid off around 14,000 employees. The company was later dissolved and its assets turned over to British Hawker.
The Canadian government then purchased F-101 Voodoo jet fighters from the U.S. It was severely criticized as the Voodoos was considered an inferior aircraft. All six aircrafts were cut up and destroyed. Part of the nose and the nose wheel assembly of one aircraft can be found in the Aviation Museum in Ottawa, Ontario. There have always been rumors that one of the Arrows survived the destruction.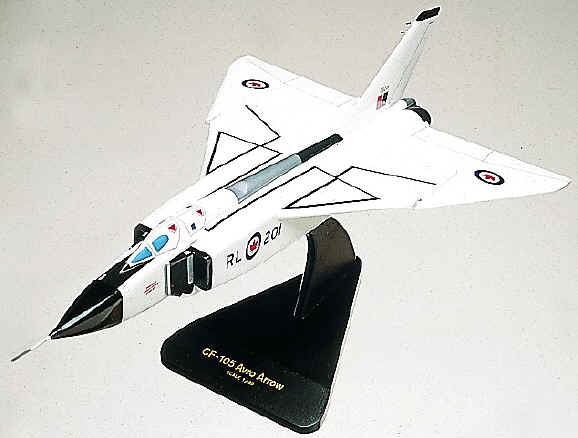 CF-105 Arrow
Standard Series. 1/48th scale. 12.5" wingspan x 19.75" long.
No. AFW1D-ST. Only $139.95