| | |
| --- | --- |
| North American AT-6 / SNJ Texan | |
The AT-6 advanced trainer was one of the most widely used aircraft in history. It evolved from the BC-1 basic combat trainer ordered in 1937. Between 1938 and 1945, a total of 15,495 Texans were built. The USAAF procured 10,057 AT-6s. The others went to the Navy as SNJs and to more than 30 Allied nations. Most Army Air Force fighter pilots trained in AT-6s prior to graduation from flying school. Many of the "Spitfire" and "Hurricane" pilots in the Battle of Britain trained in Canada in "Harvards," the British version of the AT-6. To comply with neutrality laws, U.S. built Harvards were flown north to the border and were pushed across.
In 1948, Texans still in USAF service were redesignated as T-6s when the AT, BT and PT aircraft designations were abandoned. To meet an urgent need for close air support of ground forces in the Korean Conflict, T-6s flew "mosquito missions" spotting enemy troops and guns and marking them with smoke rockets for attack by fighter-bombers.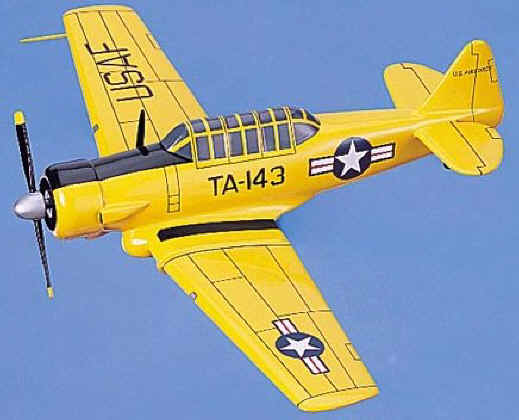 North American AT-6 Texan
From our Standard Series. 1/32nd scale. 15.75" wingspan by 10.75" long.
No. AFK1D-PR. Only $169.95
More Texans: We have models depicting:
US Navy - World War II | US Army - World War II
US Navy - 1946-1970 | US Air Force 1946-70