| | | |
| --- | --- | --- |
| | Lockheed AC-130 Spectre Gunship | |
The Lockheed C-130 Hercules went into production at the Lockheed Aircraft Co. in Marietta, Ga., in 1953. It was the original prototype of what was to become a long line of aircraft, ones still in use today. During the mid 1960's, some of these cargo planes were converted into attack planes. Designated the AC-130H Spectre gunship's primary missions are close air support, air interdiction and armed reconnaissance. These heavily armed aircraft incorporate side-firing weapons integrated with sophisticated sensor, navigation and fire control systems to provide surgical firepower or area saturation during extended periods, at night and in adverse weather.
During Vietnam, they destroyed more than 10,000 trucks and were credited with many life-saving close air support missions. During Operation Desert Storm, Spectres provided air base defense and close air support for ground forces. AC-130s were also used during Operations Continue Hope and United Shield in Somalia, providing close air support for United Nations ground forces. They have most recently played a pivotal role during operations in support of the NATO mission in Bosnia-Herzegovina, providing air interdiction against key targets in the Sarajevo area.
The currently used version is the AC-130U Spooky. It is the most complex aircraft weapon system in the world today. It has more than 609,000 lines of software code in its mission computers and avionics systems.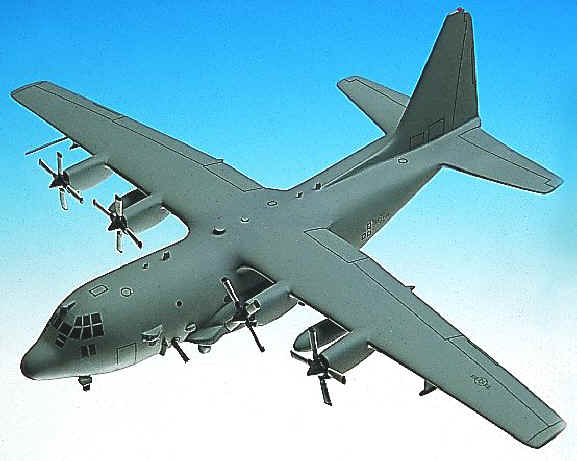 AC-130 Gunship
Standard Series. 1/100th scale. 16" wingspan x 14" long.
No. AFA3D-ST. Only $149.95
See: USAF C-130 Hercules Cargo Plane | USAF AC-130 Gunship
USN C-130 "Blue Angles" | USCG HC-130 Patrol Plane