| | | |
| --- | --- | --- |
| | Fairchild AC-119 Gunship "Shadow" | |
During the Vietnam War, specially equipped AC-47 "Spooky" were used as gunships. They flew their last mission in December 1969. The ready availability of C-119s in Air Force Reserve units finally decided the issue in favor of the Boxcars, at least as an interim measure until sufficient AC-I30s could be brought on line. The next step proved far more controversial.
The Flying Boxcars were armed with four 7.62mm SUU-IIA/IA minigun pods, one more minigun than the three carried aboard the AC-47s, and with the increased ammo supply afforded by the larger payload capacity, the AC-119G was about 25% more effective than the AC-47.
Te first four C-119Gs of the 71st Special Operations Squadron finally arrived in Vietnam in December 1968 to begin a three-month combat evaluation. The AC-119s needed a catchy call sign since the AC-47 crews had Spooky. An ill-considered attempt by Seventh Air Force to assign the radio call sign "Creep" to the 71st did at least give the squadron an early opportunity to demonstrate its fighting mettle to the headquarters staff. Following a "howl of indignation" from the squadron, Seventh Air Force agreed to change the call sign to the one that the 71st requested "Shadow." The name stuck and the aircraft were known as AC-119G Shadows.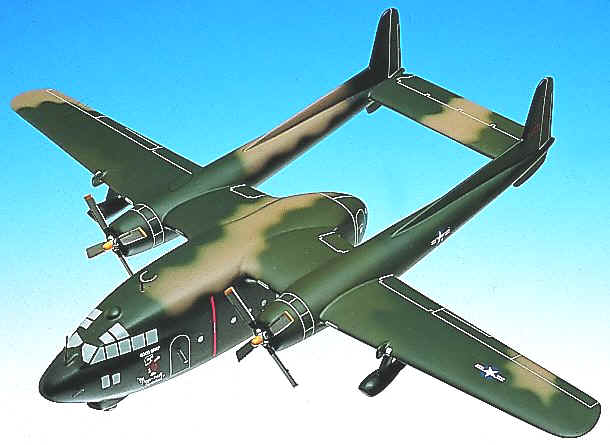 A-119K Stinger Gunship
Standard Series. 1/72nd scale. 18.75" wingspan x 14.75" long
No. AFA2D-ST. Only $159.95
See: C-119 Flying Boxcar