| | |
| --- | --- |
| | HU-16E Albatross |
The HU-16 (UF) "Albatross" was a general purpose amphibian. Design on it began in 1944. First flown in 1947, it replaced the Grumman JRF "Goose" which served throughout WW II. It featured a conventional two-step hull, full amphibian capability, a high wing with fixed stabilizing floats, and a single tail unit.
Three variations of the aircraft were produced: the winterized UF-1L for Antarctic operations, the dual-control UF-1T used as a trainer, and the general purpose UF-1. The U.S. Air Force also procured the "Albatross" as the SA-16 for air-sea rescue duties, and signed an agreement in which the Air Force and Coast Guard would train Navy pilots in the techniques of operating the HU-16 in Search and Rescue.
"Albatross" established three record flights for amphibians in September 1962 that included two separate altitude flights carrying 1,000 and 2,000 kg. loads to 29,460 feet and 27,380 feet respectively, and a new world 5,000 km. speed record carrying a 1,000 kg. load with a speed of 151.4 mph in a UF-2G. The last operational HU-16 "Albatross" made a final water landing on Pensacola Bay in August 1976 and was then turned over to the Naval Aviation Museum.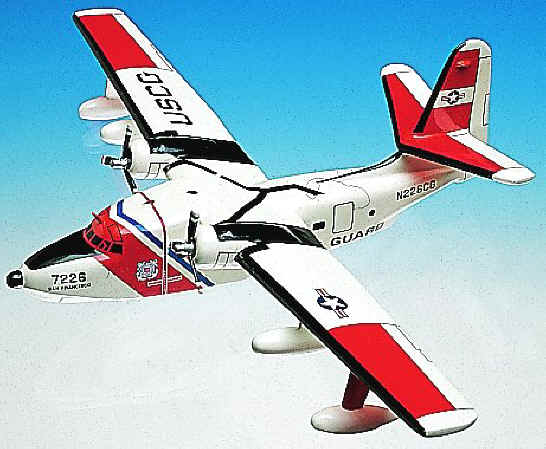 HU-16 Albatross
Standard Series. 1/72nd scale. 16.15" wingspan x 10.15" long.
No. ABS1D-ST. Only $129.95