Fokker F-VII Tri-motor
Anthony Fokker made a fortune by building outstanding fighter planes for Germany during first World War. Once it was over, the flamboyant Dutch aircraft manufacturer turned his talents to commercial aircraft. He concentrated on single-engine airliners, the most famous of which, the Fokker F-VII, was the dominant European airliner of its time.
In 1925, Henry Ford organized his first annual Ford Reliability Tour for airplanes. It was a contest to determine which planes could best withstand the heavy demands of commercial flying. It included 1,900 miles of flying and landings in 13 Midwestern cities.
Fokker ordered his factory to add an additional engine under each wing of the F-VII and to ship the plane to America to compete for the Ford Trophy. It was the first three-engine airliner in the United States. Competition was heavy. American manufacturers entered their best planes, sixteen of them. Fokker was not discouraged. During most of the competition, he flew the plane himself. He won the competition by a wide margin. Returning to Amsterdam, he immediately ordered his three-engine transport into production. Thus was born the Fokker F-VII Tri-motor.
It was probably the world's most popular airliner during the 1920s. This dependable aircraft was to make aviation history many times. Fokker's F-VII probably had more "firsts" to its credit than any other aircraft--before or since. For example, in 1926 an F-VII named the Josephine Ford carried Richard Byrd and Floyd Bennett over the North Pole. In 1928 Britain's Sir Charles Kingsford-Smith spanned the Pacific Ocean from Oakland, California to Brisbane, Australia in his Southern Cross . And as a passenger in the Fokker Friendship, Amelia Earhart became the first woman to fly the Atlantic Ocean.
Meanwhile, Henry Ford was also impressed and in 1928, the Ford Motor Company introduced it's Ford Trimotor Airplane.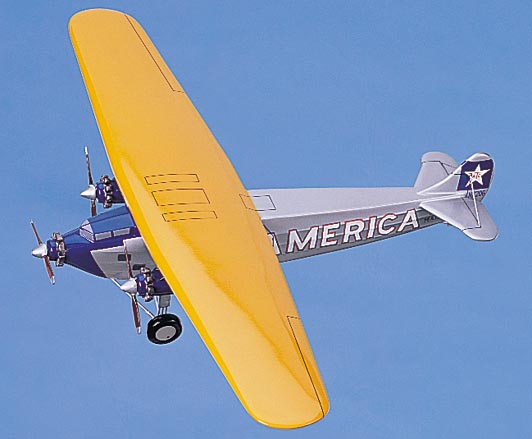 Fokker F-7 America
From our Premier Series. 1/40th scale. 20" wingspan x 14" long.
No. AAH1D-PR. Only $219.95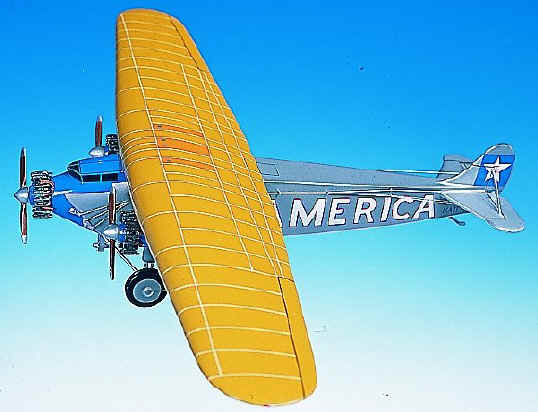 Fokker F-VII America
From our Deluxe Series. 1/40th scale. 21.25" wingspan x 14.5" long.
No. ASH1D-DX. Only $159.95
Our Tri-motor Aircraft: Ford Tri-motor | Junkers Ju-52 Military | Ju-52 Lufthansa