British Aircraft Corp BAC 111
The British Aircraft Corporation decided to build the BAC.111 with a round shaped pressurized metal cabin, low wings with Fowler flaps and a t-shaped tail unit. An additional entrance under the tail ensured an easy access for the up to 79 passengers.
On August 20th, 1963, the first BAC.111 took of for it's inaugural flight, but crashed two month later, killing the test crew. Changes on the elevators were the result of the inspections, which made an uncontrollable deep stall responsible for the crash. The certification of the BAC.111 was issued in April 1965, and when British United Airways ordered ten BAC.111-200, some North American airlines, such as Braniff and American Airlines also decided for the BAC.111. For the US market, the versions BAC.111-300 and -400 were developed, featuring more powerful engines and an improved range. Another version was introduced in 1967, to account for the airlines' need of a higher passenger capacity. The BAC.111-500 was 4,08 m longer, had a longer wingspan and more powerful engines. The launching customer was British European Airways. BAC/BAe stopped production in 1977 after 230 units and sold the rights to Rumania. The versions 475 and 560, built by ROMBAC, correspond with the BAC.111-475 and -500.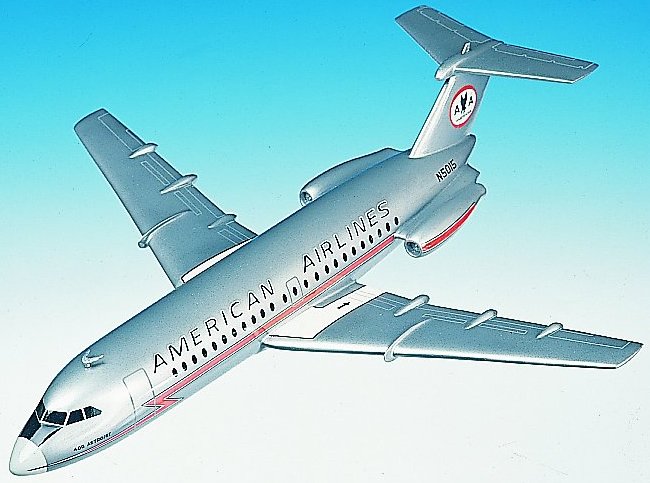 BAC 1-11
From our Standard Series. 1/72nd scale. 14.75" wingspan x 15.25" length.
No. AAE3D-AM. Only $129.95